Could all this man's rage and sexual phobias fit inside one of his dinosaur balloon animals?
If you're a midget, and you're a douche bag, can you fit inside an actual douche bag?
How many members of the cast of Waiting to Exhale could fit into this Niagra Falls Barrel? Which ones?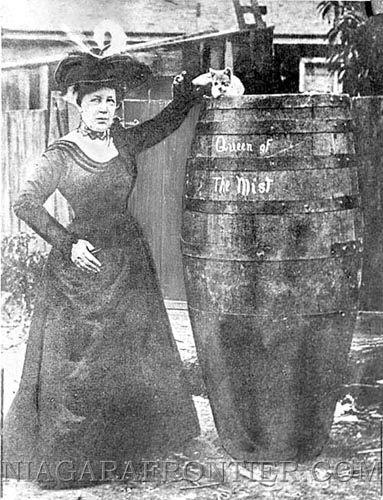 I think we've obviously got to put Loretta Devine in first. I think she's going to give the barrel a lot of stability, and maybe help with the steering. Next, I think you put in Lela Rochon. She's in the barrel so she'll stop fucking all these assholes and start respecting herself. Next, this is tricky, I think we've got to put Whitney Houston in. I think Angela Basset is clearly the wild card. Whitney Houston will probably be on drugs, but I think that might actually be a plus- she might not even know she's in a barrel, she might just think Bobby Brown is driving her to the airport. I just don't think you want Angela Basset in your Niagra Falls barrel. I think she might start acting in there. Please feel free to disagree with me.
Uh-oh, what if Devo was already inside the barrel? I think in that case, you take Loretta Devine and stack Devo in there with her, and put Whitney Houston laying flat on top of their hats, tell her she's going on a ride, and have Devo to start singing "I want to dance with somebody".
Could Black Jesus fit inside Bearded Frankie Muniz?
Could the entire cast of "Beverly Hills Chihuahua" fit inside Bea Arthur's vagina?
I guess the real question is: Is Bea Arthur's vagina bigger than this cup?
Could the world's tiniest Halibut fit into Sarah Palin's wink-hole?
Could the dick on a classic Greek Kouroi fit in the tiny space between Joe Biden's eyes?
Could Sylvia Plath fit her head into this?
Could the world's tiniest Indian girl fit inside Sarah Palin's hair bun?
I think she could. If you don't believe me, click on this link to see a girl putting tennis socks in her bun while listening to sexy music.